Elizabeth Taylor's love of glitz and glam included eye-catching headpieces that were just as big and showy as her jewelry. Whether she was getting married, going to a premiere or a gala fundraiser in Italy she had over-the top headpieces that still inspire people today.
Exhibit A: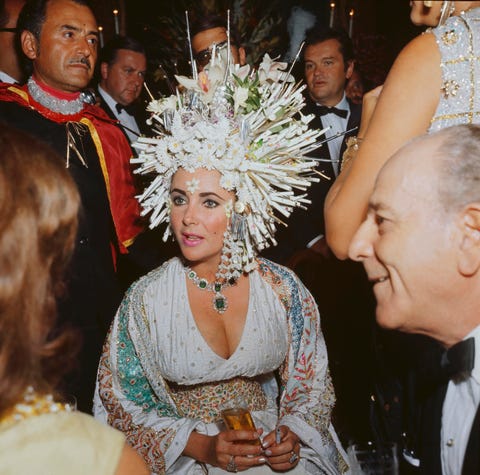 It looks just as stunning in black and white as it does in color.
She wore headdress this in 1967 at a star studded event in Italy. This headpiece has been the inspiration that many others have tried to emulate, including Gemma Chan at the Met Gala in 2019
While we haven't tried to make THIS Headress at The Headdress Workshop we have made other fantasy type headdress – the are just as interesting but a lot more comfortable to wear and a lot easier on the budget. And we do offer headdress classes so that you can explore making your own version of this.
Here are some other examples of headdresses worn by Elizabeth Taylor that you can easily replicate at The Headdress Workshop.