I am knitting newbie. For almost 20 years, I have owned a company that sells mannequins, dress forms and related store fixtures. My specialty is salvaging store fixtures from major retail chains that are closing or remodeling. And then I resell these gently used products at a deeply discounted prices. (I sell new versions of these products too)
I never thought about actively promoting my products to the knitting community, instead focusing on fashion designers. Occasionally I would sell one of our beat up mannequins to knitters who wanted to do a yarn bombing project like in the photos above. But I after stumbling upon two articles recently it caused me to want to reach out to the knitting community.
The first article was: 30 Nifty Gifts for Knitters Who Have Everything. While the recommended products were amazing like this knitting project wrist bag.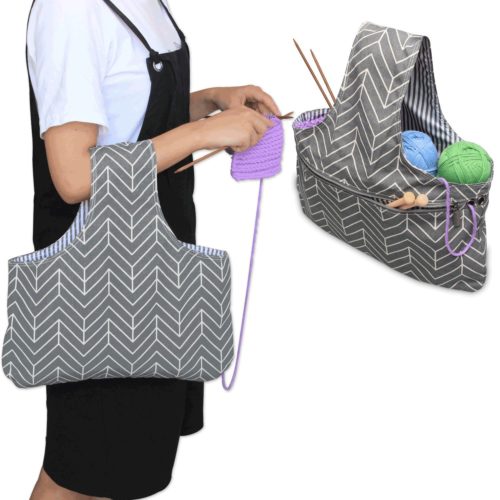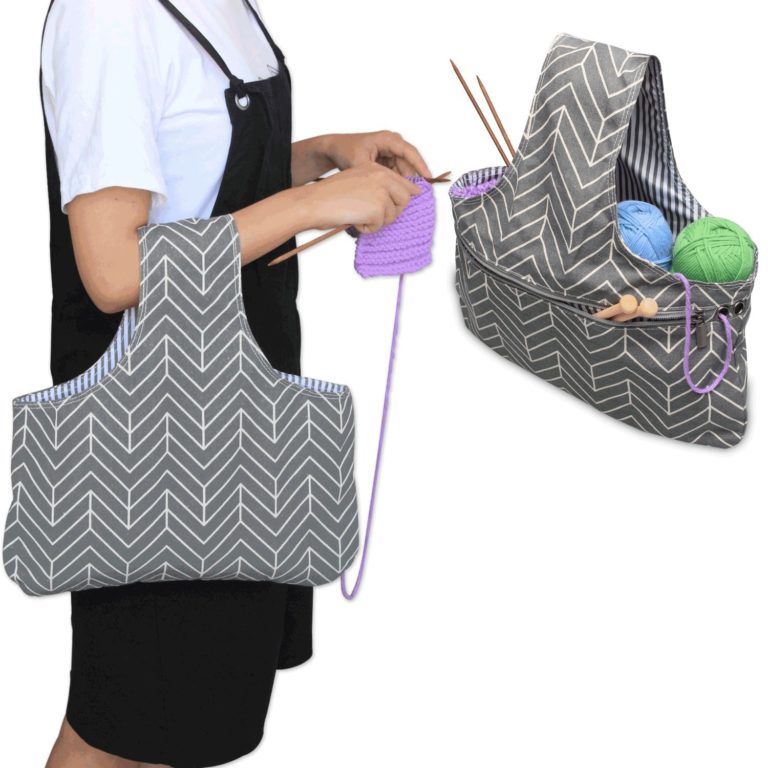 But it was a little disappointing that all of the products were from Amazon. Perhaps they were from independent sellers who happened to use Amazon as a platform. But still it still felt like Amazon is taking over the world and squeezing out small retailers. And retailers of color are especially vulnerable.
Speaking of squeezing out, the second article I read was Black people were the original diy craftivistist. This article went into detail about how Black people were the most proficient spinners, knitters, weavers, and sewers in America. And we were skilled upon arrival. White people intentionally purchased slaves from regions known for expertise in textiles and natural dyes like indigo.
Enslaved girls learned to knit as early as five, and women made fine garments for their masters, as well as clothing and blankets for themselves. But currently Black people seem to be squeezed out of the knitting community for various reasons which the article explains.
This caused me to read all the articles that came out recently about racism that knitters in the Black and BIPOC community have experienced over the years and what they are doing to change it like this article in the New York Times .
When writing this post, I could have just listed the knitting products I wanted to recommend and not gone into detail about why I wrote the post. Yes, I want to sell merchandise, not discuss politics. But advocating for people to buy products that are recycled because it helps the environment when we reuse, repurpose instead of throw away, is already a bit of a political statement.
So I decided to take a further stand — as a Black woman and a small business owner — for two communities that are struggling for their survival. Where you shop makes a difference. Conscious consumerism is when buying practices are driven by a commitment to making purchases that have a positive social, economic, and environmental impact.
Here are FIVE mannequin related products that my company sells. And I am offering a 15% discount on all products when you type in the word KNITTING at checkout. (This discount cannot be combined with other discounts)
1 Sock forms.
At the moment we have a supply of gently used sock forms that we recycled from American Apparel when they went out of business. Once we run out, we do sell new ones here.
2 Hands.
We have a used selection of used mannequin male and female hands that you can use for displaying gloves.
But if you prefer a hand that stands upright, then one of our brand new glove hands will be better suited for your needs.
3 Heads
We have a large supply of cosmetology heads that we recycled from a beauty school. While they are cheap ($10) most of them have some writing or graphics on them that the student wrote. Or the heads are shaved. If you aren't concerned about beauty, and just need the function of a head for your knit hats, they will do the trick.
However, if you want a head that you can also use to display your wares for selling online or in person, then let me suggest our new heads.
4 Dress Forms
Our used dress forms sell out fast, especially the ones we get from retailers such as Macy's or Nordstrom. If the style you like is out of stock you can sign up on the product page to be alerted next time it is back in stock.
But if you need a dress form right away, we always have new ones here.
5 Wire Dress forms.
This idea was trending on Pinterest where knitters were using a wire dress form as storage for their yarn. We don't have this exact form we do sell similar wires forms here.
Thanks for much for reading this. And I would appreciate if you would share it with your knitting community.